Premio per la realizzazione di un progetto di ricerca (Practicioner grant 2016)
Il premio è stato assegnato dalla società ESVD (European Society of Veterinary Dermatology) per il progetto di ricerca:
"Ruolo della elastografia nella valutazione della pelle canina: principi e considerazioni cliniche"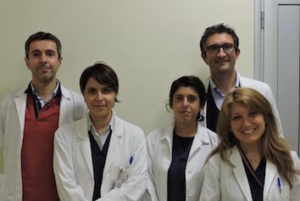 Eric Zini,  Giordana Zanna, Giulia Brizzi , Edoardo Auriemma and Simona Morabito
Presentation of the study
"Role of elastography in the evaluation of canine skin: principles and clinical considerations"
Elastosonography is a painless, invasiveness and promising imaging method that allows the assessment of tissue elasticity. It is based on the principle that softer, normal tissue displaces more easily than harder, malignant tissue when an oscillatory pressure is manually applied by an ultrasound transducer. The variation in deformity is seen as changes in ultrasound signals which are represented on the video screen by a color map called elastogram. The increased tissue hardness appears in ascending order as red, yellow, green and blue.
In human medicine, elastosonography is currently used in several cutaneous and internal organ disorders as an intriguing alternative to the traditional diagnostic tools because it provides useful information about the stiffness and the anatomic features of a lesion. In dermatology, it has been used to evaluate cutaneous neoplasms as melanoma and carcinoma or diffuse cutaneous systemic sclerosis and lymphedema.
In veterinary, few reports are reported on the application of elastosonography on several tissues as liver, splenic and renal parenchyma or in mammary tumors. However, no studies have been performed about the use of elastosonography in veterinary dermatology. 
The aim of this project is to correlate elastosonographic with histopathological findings of nodular lesions in dogs, in order to identify elastosonographic criteria that may provide further information to the clinician in the morphological screening of these lesions.